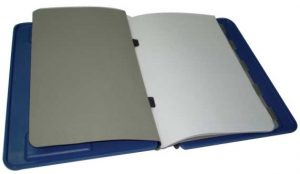 Kalamazoo 139K Minute Binder
This  popular Triform 139 K Minute Binder is designed to fit Minute Sheets Ref 201101 & 201105.  These binders are not only economical but also robust  as the imported unit. They will fit perfectly with your existing size 139 forms. The  designs follow the M and Z Binder design.
What is a minute book and what documents does it contain?

By-laws of the company; Minutes of the directors' and shareholders' meetings/​resolutions; Directors and officer's registers; Shareholder register and ledgers. These documents are required by law to be kept for 7 years.
Kalamazoo is the better way to record the minutes of your Corporate Legal and  Board Meetings
The proven professional system used by leading Company Secretaries.
Minute sheets are pre-printed in size 139 and A4  and are available in 2 design formats
This binder is durable and affordable.
Made in Malaysia