Sale!
Kalamazoo Malaysia Minute Binder FT 139 set c/w 200 Minute Sheets (2022 Promo)
What is a minute book?
PLC (BHD) and LLC (SDN BHD) Companies are legally obligated to maintain certain records for good governance. The expression "minute book" is often used to refer to the binder or bound book that contains these records. Kalamazoo has the size 139 and A4 Range of loose-leaf Binders for the purpose.
Every PLC and LLM company shall keep Minutes of all Board and Committee Meetings in a Minutes Book. Minutes kept in accordance with the provisions of the Companies or Corporation Act in most Countries evidence the proceedings recorded therein. Minutes help in understanding the deliberations and decisions taken at the Meetings in arriving at decisions as a legal record .
How long should corporate minutes be kept?
A business should keep its minutes for at least seven years, and make them available to members of the corporation (e.g., shareholders, directors, and officers, the Tax department and any regulatory body ) who make a "reasonable request" to review them.
Why are corporate minutes important?
Minutes are important details that you can't ignore if you want to keep your business in line with Laws of your Country and are Statutory requirements to back up your tax returns and Corporate Governance. Minutes represent the actions of the Board of Directors and company leadership, and are considered legal documents by auditors, the IRS, and the courts.
Every LLC or LLM registered corporation is required to maintain an official record of its activities including records of any annual meetings conducted by the directors and shareholders of the company as well as any change within the corporation such as any change of address, changes in directors, shareholders and/or officers, etc. Such record is normally kept in a book called a "Minute Book". A Minute Book is typically one of the first documents reviewed when a corporation is seeking to partake in various business transactions, such as selling the company or getting a loan, making it one of the most important books of every corporation.
20 in stock
Description
This model of the FT Minutes Binder  is made in Malaysia and is the most economical of the range. It comes with either a 139 or A4 FT Minute Binder with 200 sheets of Minute papers. Covers are made of PP rigid Plastic and can be gold stamped to your requirements for an additional fee. Binders are available in black. Binder fits all standard Kalamazoo Minute. It is also marketed under the Triform Brand  and fits all Kalamazoo A4 or 139  printed Minute sheet spacings.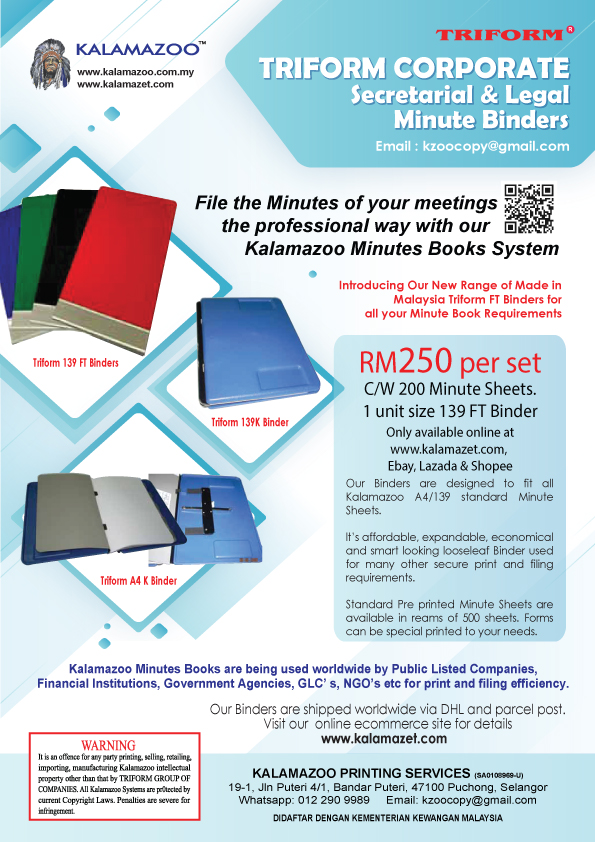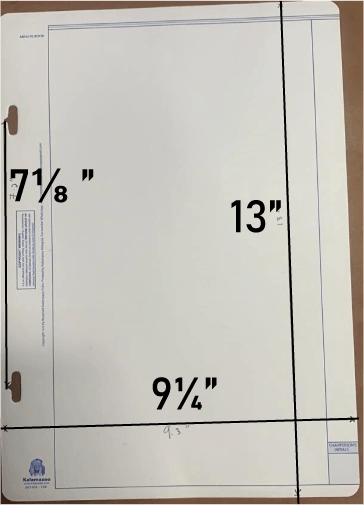 Brand
Kalamazoo Malaysia Binder Systems
Kalamazoo Looseleaf Binders A4 and 139 For Minute Binders. 100% Compatible. Made in Malaysia